The Edinburgh Regatta  has  become "The Forth's Favourite Annual Regatta" based on last year's attendance.  There were over 40 boats, a great social atmosphere all linked to solid racing.  There was even sunshine to help the atmosphere along.
This is the report and pictures from last year's event.  Just as a taster of what is to come.
A large fleet of boats rafted up before the racing
Strong winds tested all of the crews, and the Race Officers had to think quickly to adapt courses to the windy conditions.  Everyone seems to have enjoyed the event – including the spectators lining the shores of Newhaven and Leith.
Well Reefed for the windy conditions
Each of four classes had three dramatic near shore races in Wardie Bay, with two further planned races becoming impossible in winds gusting over 30 knots.
Start of 707s
The Scottish 707 Championship linked to the regatta attracted teams from north and south of the border, producing really good competition.  "Seaword" won the Scottish 707 Championship and was also awarded the Britannia Trophy for best overall performance in the regatta.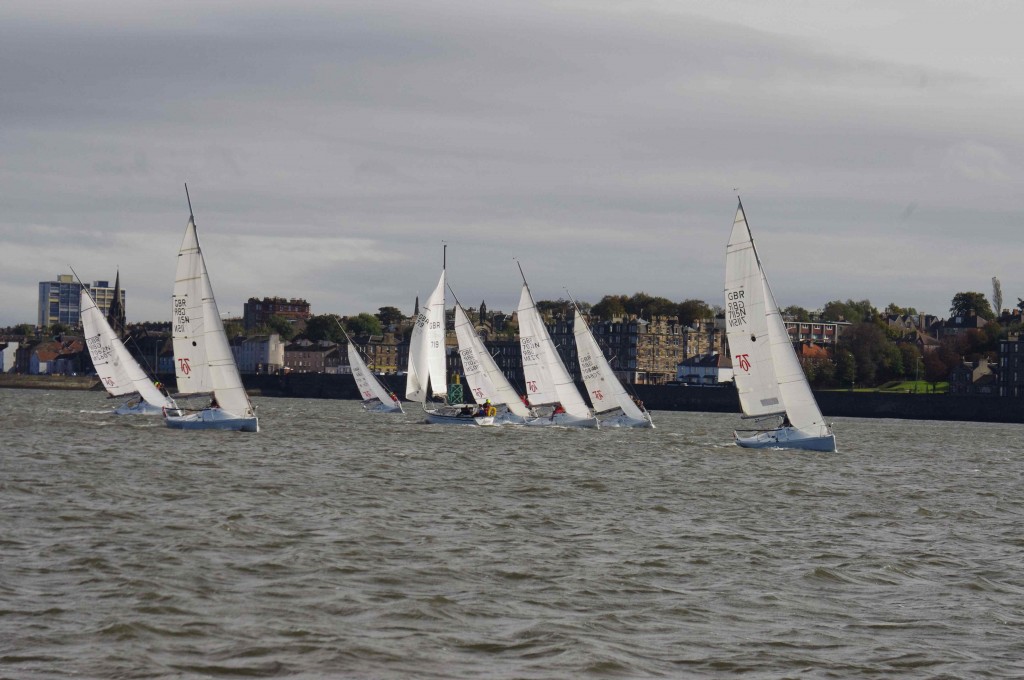 At the end of racing on Sunday, a packed bar, newly restocked having run out of some beers the previous evening,  saw the RFYC Commodore, Mark Primrose, thanking all the competitors and helpers for their efforts to make it such a success.  The RFYC Sailing Secetary, Sarah Robertson, presented the prizes.  All of the race winners took home plenty of Benromach whisky prizes, and our thanks to the sponsors for providing them.
Outgoing Committee Chair, Patrick Carnie, said "I am delighted that the changes we implemented this year paid off.  There was a tangible sense of excitement before the event, lots of new skippers taking part, and a packed clubhouse that drained the bar. Now we know how to make it The Forth's Favourite, and look forward to future years."
Report by Patrick Carnie.  Photos by John Spencely and Tom Wilson.
More photos in the Gallery.