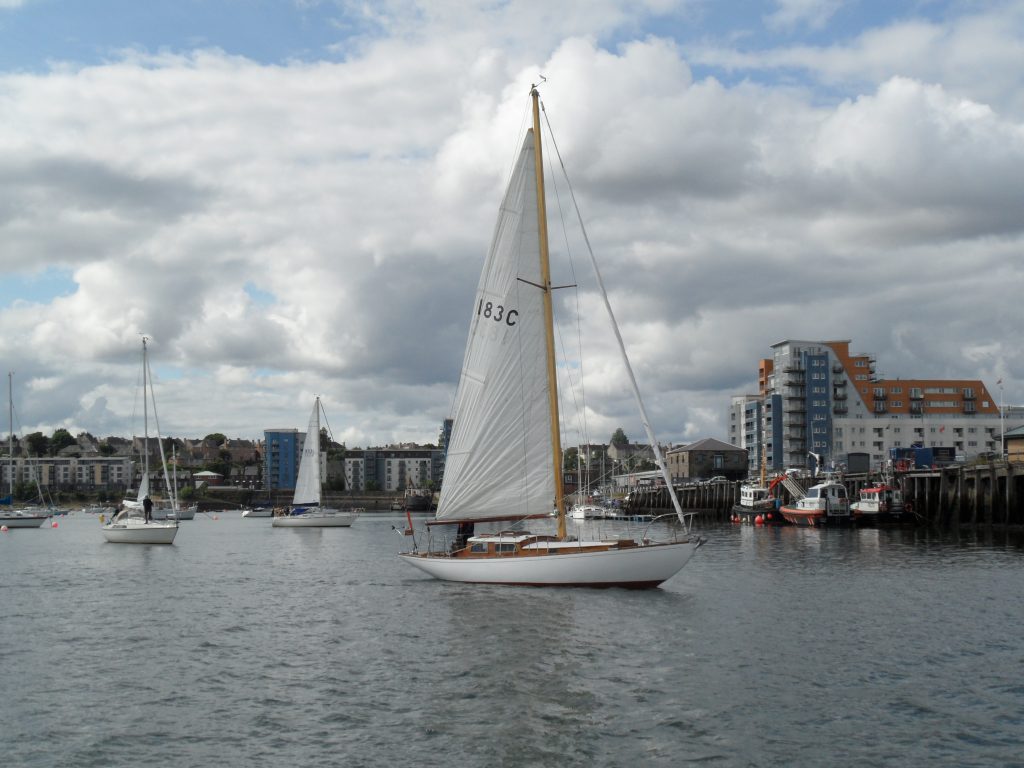 The second C in C of the 2019 season was, once again, to be held over a falling tide so the group assembled in the clubhouse at 10am to discuss possible options for the day. With a F3/4 south westerly forecast for the day, with possible light showers, a cruise up river (against the tide) or down river, perhaps across to Kinghorn Bay, was on the cards. Having weighed up the pros and cons we decided to head upriver to Port Laing, on the Fife shore just east of the rail bridge. This is a delightful anchorage with good shelter from the south and west and gently sloping ground offshore which allows for easy and safe anchoring.
There was a good turnout of 5 boats in the fleet; Tidecatcher, Solveig, Amare, Errant and (for a brief time) K-Mar, before they decided to divert to Inchkeith !
Having left the harbour, and with the predicted south westerly being nowhere to be seen, we found that the highest we could point upriver was Aberdour! This called for a hurried round of telephone communication but, no sooner had we agreed in a possible 'bail out' to Inchcolm, a brisk south westerly breeze set in and this carried the fleet, close hauled, on a bee-line course for Port Laing.
Having reached our destination (and just to be sociable) Tidecatcher decided to raft up to Solveig and then Errant, sailing single handed, decided to raft up to Tidecatcher! With all 3 boats rafted up on the one anchor the crews adjourned to Tidecatcher for coffee and a blether !
All was well until the wash from a passing ship caused some upheaval and the first thing we saw was Errant (having broken free from the bow line) pivoting round, held only by the stern line. Chaos ensued as everyone leapt into action. Coffee was spilled and Errant's owner, Alastair Wight, throwing caution and dignity to the wind, only very narrowly missed doing himself what could have been an embarrassing injury when he tried to vault the safety lines of both boats at once in his haste to get back on board his wayward craft. Having then cast him off, and with disaster averted, Alastair decided not to re-join the group but instead he hovered around before heading back at a leisurely pace to Granton. Closer inspection revealed that the bow cleat on Errant had been pulled clean off, presumably when the boats heaved in the wash of the passing ship.
With Errant departed, Amare came alongside Tidecatcher and the socialising continued. It is always nice when conditions allow boats to 'raft up' as it gives the crews a chance to mingle and to see what everyone else has on their sandwiches!
With the high excitement of the day over we raised anchors (anchor !) and headed back, with the breeze behind us remaining constant to help us back to Granton. So ended another lovely day with, thankfully, the rain staying clear of the river and deciding instead to deposit on the city !
Watch out for further 'Cruise in Company' events throughout the season, and do come and join in!
B Robertson