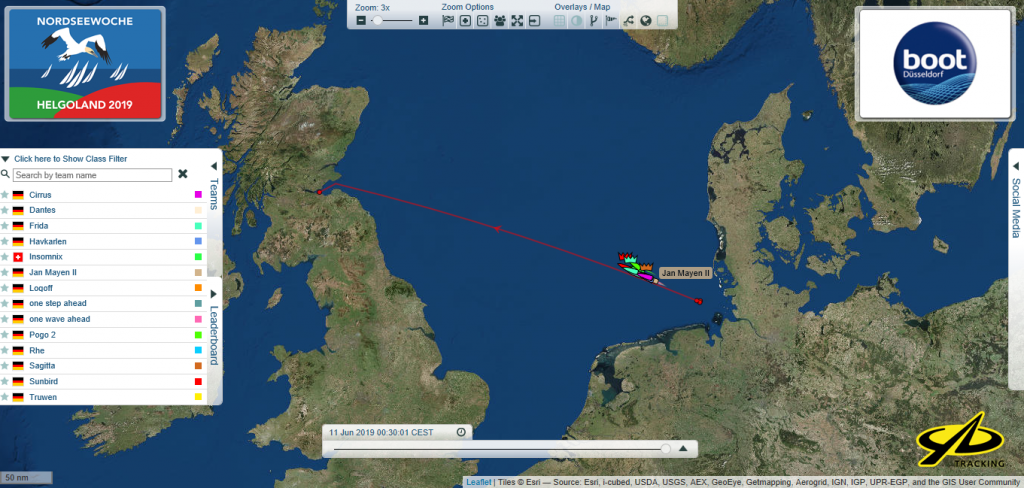 The 26th Helgoland to Edinburgh race started on Monday 10th June at 15:30 BST. The entry list has 14 yachts and they can be followed on the tracker link here: http://yb.tl/heli2edi2019.
We will be laying the finish line on Wednesday morning at the latest and the radio watch will commence on Wednesday and run until late Friday or until all yachts are finished. The radio teams will monitor the progress and keep a log of contact and sightings. The timings for the finish line will be entered onto the results sheet and the information sent back to Germany.
The yachts will all be sitting on the EML pontoon after arrival and the radio watch team will have tide information available to help. We have sail, rigging and other repair help on standby for the arrivals.
There will be food available from Thursday afternoon and breakfasts on Friday and Saturday. Saturday evening is an event for all to enjoy, members and visitors, all are welcome. There will be short welcome speeches around 7pm and then a good Scottish piping welcome. The BBQ will run from 7.30pm and if you would like a ticket please buy them in advance so we can plan the volume of food to be provided. Tickets are £15. Later in the evening 'Lost at Sea' a band of yacht club members will be playing in the club lounge.
So, get involved! Come and help with a radio watch, bar shift, offer to run crews to the supermarket or garage. Come and be sociable and join in the BBQ night. If anyone has a burning desire and the time to go back with a yacht please let us know as there might be an opportunity.