Rathbones 707 National Championships -2014
See STV video  piece about the race.  See also Final Results. which includes a gallery of photos from Liz Tulloch.   Additional photos on this page by Ken Dougall.  Piece and info also on Yachts and Yachting.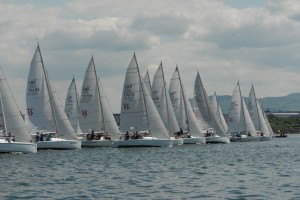 Granton  played host this year to a national sailing championship.  The Hunter 707 class has a well-established fleet on the Forth, and visiting crews have come as far as Banff in the North and Southampton in the South.
This regatta is held annually around the UK coast and was won last year at Scarborough by Jon Powell. The link with Rathbones is a new venture for both the sponsor and the 707 class association.
The sailors have appreciated Edinburgh's fantastic sunshine,
and the challenging winds.  The first day got off to a slow start, but the second day was  very busy, with four races.
Each day ended with a social event and prize giving.  The most important prize of the day was probably the race winners, although some sailors seem to think it's the "idiot of the day", or the random draw for a box of wine from Great Grog.


Royal Forth Yacht Club was the host for the event, and has a long tradition of hosting national championships.  It is close to Edinburgh city centre and has ideal sheltered waters for keelboat sailing within a couple of miles of the harbour.
The testing winds have made it difficult for any single boat to dominate throughout.  However, local sailor Stewart Robertson and his regular crew on Cacciatore  were leading half way through the regatta and managed to hold off a strong challenge to gain the title.   Key challengers included James Urquhart (Code Z) and Neil McLure (Blue Funk), both from the Forth.  The rest of the 21-strong fleet needed some solid finishes to climb the leaderboard.
Club Commodore, Mark Primrose, said "We are delighted to have so many brilliant sailors come to Edinburgh to sail.  Many are inspired by last year's Olympic sailing, and by the America's Cup.  We want more people to start sailing, or return to it, and like all sailing clubs are happy to welcome new members.  Who can resist the fresh air, exercise and camaraderie that come with this sport?"  Last year's class champion, Jon Powell, said "We are enjoying the hospitality, sport and social life at the Royal Forth Yacht Club.  All of us appreciate how much effort has been put in by all the club volunteers.  All of the sailors have been made very welcome."
Images
Call Ken Dougal 0797 726 2545 for free use
Results – see enclosed
About
Royal Forth Yacht Club
Rathbones
Hunter 707 sailing boat
For a selection of photographs, see: http://actionshot.photoshelter.com/
There was also a very lively and enjoyable social scene which  culminated with  a grand prizegiving dinner on Saturday evening at theGhillie Dhu in the centre of Edinburgh.
List of Entrants for Nationals
Twenty-one boats have entered the  2014 Rathbones 707 National Championships.  The full list of entries is shown on the link below:
Rathbones 707 National Championship 2014 – List of Entrants
Sailing Instructions
SIs for the Nationals are available on the link below:
Rathbones 707 National Championship 2014 – SIs
Notice of Race and Entry Form
There is a link below to the Notice of Race and Entry Form.   Please note that to help encourage boats to travel, the first ten boats to enter from outside Scotland will pay a reduced entry fee (see Entry Form and NoR Section 3.2 for details).
Rathbones 707 National Championship 2014 – NoR
Rathbones 707 National Championship 2014 – Entry Form (MS Word)
Rathbones 707 National Championship 2014 – Entry Form (PDF)
707 Nationals 2014 – Social Calendar & Order form v2
Event Poster
If you want to print the event poster, or include it in your own web site, please use the link below.
Rathbones 707 National Championships 2014 – Poster
Event Sponsors