The new crew of Hopscotch were tested by the freezing Forth during Saturday's points race. They are more than happy to re-tell the tale in the club bar with increasing dramatics each time, but in case you missed the action, here are the highlights.
The short story – Mark will be needing this:
The Story from the Boat
Louise: It was a breezy Saturday morning when Louise and Mark stepped on board Hopscotch for their first race on the new boat. Having sailed only really in light winds over the past week, new skipper Louise forgot one important part of the rigging – to attach the muscle box to the wire jib halyard instead of just using the thin halyard hauler line. Setting off and (almost) completing the first race without incident, all seemed to be going incredibly well.
The start of the second race was much less smooth, with multiple tacks to get through the start line and Mark noticed the jib slipping. The indications of difficult conditions were beginning to show, with waves splashing into the cockpit and Mark doing a great job of keeping his skipper dry.
Struggling to explain what she thought was needed, Louise switched places and noticed the jib hauler fraying. Still not realising that the cable was not properly connected, Louise made the quick decision to bring the jib down to avoid losing the halyard up the mast if it were to break in the increasingly strong winds and bumpy sea. Mark went forward to bring the jib down and Louise kept control of the boat, but seeing Mark appear unstable on the foredeck Louise brought him back and left instructions to keep the same course while she secured the jib. Having seen the new team struggling, the committee boat Royal Forth approached Hopscotch to offer assistance, which was especially helpful as this was Dermot's boat until last week! Dermot suggested using the jib sheet to secure the jib on the foredeck rather than attempting to fully disconnect it.
All was under control. A minor problem, many of which I'm sure are inevitable for a new skipper and a new boat owner. Heading towards the shelter of the harbour with a clear plan, what happened next tested the team to the limits.
Knelt on the bow, tightly gripping the forestay as the waves rocked the boat from side to side, I was listening to Dermot explaining that my current plan to use the jib halyard to wrap around and secure the sail was a non-starter. 'It isn't long enough', he called to me, 'secure the halyard to the forestay, don't worry, it won't go anywhere'. As I followed his instructions, I looked for the end of the jib sheet to use that instead, as Dermot suggested. I turned back to look into the cockpit, about to open my mouth to say 'no, stay there, I'm getting it'. Before I had the chance, there was a yellow inflatable next to the boat close to where I was expecting to see Mark sitting at the helm!
I would like to say that the first thing that came to mind was training, the complete procedure now with the chance to really show what I've been training for. In reality, the first thing that came to mind was 'oh for sake!', quickly followed by the overwhelming urge to shout man overboard although there would have been no value in it as there was no one else on board to come racing up to help on deck.
Without thinking about the previous jib problems, I rushed back into the cockpit, amusingly hearing my school teachers' voices in my head 'no running in the hallways, you'll hurt yourself!'. As I passed the hatch, I considered grabbing the throwing line to recover Mark, but quickly thought better of it as Royal Forth was already approaching him and I had no jib to hove to and stop the boat. Shouting back to Mark confirmed that he was conscious and in good spirits despite the shock, and was swimming after the boat which was still travelling at quite a pace! Calmly telling Mark to stop swimming and wait for me to come back to him, amazingly everything felt completely under control. I knew how to get him back on board and I knew that he was not badly injured.
I took the helm, not even noticing that the tiller extension was missing and with no idea how my crew had ended up overboard, and put the boat as close to head to wind as possible to slow her speed, watching as Mark was circled by the committee boat. Seeing that the rescue was under way, I decided two things – there was no need to call the coastguard (Mark was conscious and would be quickly in the harbour if medical attention was required) and that the rescue would be safer done by Royal Forth under power than by me, an inexperienced skipper, under only the main sail with Mark downwind from my position. Nevertheless, I was still planning how I would undertake a man overboard recovery from this position without the jib in case something were to happen to Royal Forth. That second decision and back up planning took all my attention, and by the time I was happy Royal Forth had hold of the casualty and he was ok, the troublesome jib was in the water.
Now I had to turn my attention to the boat, I had slowed her speed and adjusted course directly for the harbour, meaning I was now quite close to the breakwater and feeling confident that all was still under control despite the surprise of now single-handing my new boat on her fourth outing. But I was slowly losing steerage as the jib had gone over the side of the boat on exactly the side I didn't want it to! The jib was over on the starboard side, pulling the boat closer to the breakwater and preventing me from putting her head to wind or tacking away from the breakwater. I had two risks to weigh up:
Option 1) Wait for Royal Forth to come and help once Mark was on board (assuming he didn't need immediate medical assistance) and possibly end up grounding the boat in the shallows by the breakwater if I left it too long to take action
Option 2) Tie off the tiller and depower the main sail to keep the boat on a steady course while I go up front to bring the jib back on board, with a high risk of going overboard myself in the choppy conditions.
I decided to wait as long as I thought I could and if Royal Forth wasn't close by then, to go up and regain steerage. Just as I was tying off the tiller and steadying my nerves, I saw Royal Forth motoring through the waves, Dermot readying himself to hop on board.
It turns out it's quite difficult to get on board a boat with absolutely zero steerage, but Joe expertly positioned Royal Forth to get the job done and Dermot recovered the jib and helped get Hopscotch safely onto the pontoon in Granton Harbour, where we could all take a breather and eat some chocolate. What a day!
It didn't hit me until a few hours later, when I was continually thinking of the many things I could have done better. This situation could have been so much worse and could have quickly escalated if everyone involved had not remained calm. Mark's main concern was if he had dented my confidence as a new skipper, but I have learnt some valuable lessons that many would not have learnt so early in their sailing careers, which I can now use to try to prevent such minor problems from escalating in future – those may include tethering my crew to the boat in breezy conditions and putting a checklist on the boat for race set up. Anyone got a laminator we can borrow?
Thanks To… Royal Forth – Joe and Dermot
On hand to witness Mark's forward-roll off the side of Hopscotch, the race committee immediately motored towards Mark, now surrounded by a yellow ball of inflated life-jacket.
With huge thanks to Joe and Dermot for undertaking a calm and safe rescue, and to all those club members who offered cuddles and words of encouragement in the bar afterwards!
This is an important reminder to all sailors – always wear your life-jacket. As we heard from many other members, a simple slip or trip and you can go overboard – a situation that can go from embarrassing to catastrophic in just a matter of seconds. With the help of our friendly club members, there were no injuries (other than to Mark's electronics!) and only a couple of minor repairs to Hopscotch needed after Saturday's adventures. The Hopscotch crew will be back for more learning opportunities next Saturday!
---
The Story from the Water.
Mark: For me the day started positively. There was a mixture of excitement tamped down by the trepidation of heading out for our first race together. With the boat under Louise's new ownership and our team an untried entity, we'd discussed whether we'd even enter the race or just have a practice sail. In the end we decided to enter the race but had no illusions of competing. We were there to gain experience of the boat and of our new sailing partnership. By what you already know is coming, we definitely got a lot more experience than either of us were expecting or indeed would have wanted.
The first race went well. We made a reasonable start, followed the fleet round and got the basics of navigating the course down. Nothing to challenge or impress the seasoned veterans but nevertheless an achievement that evinced a grin on both our faces.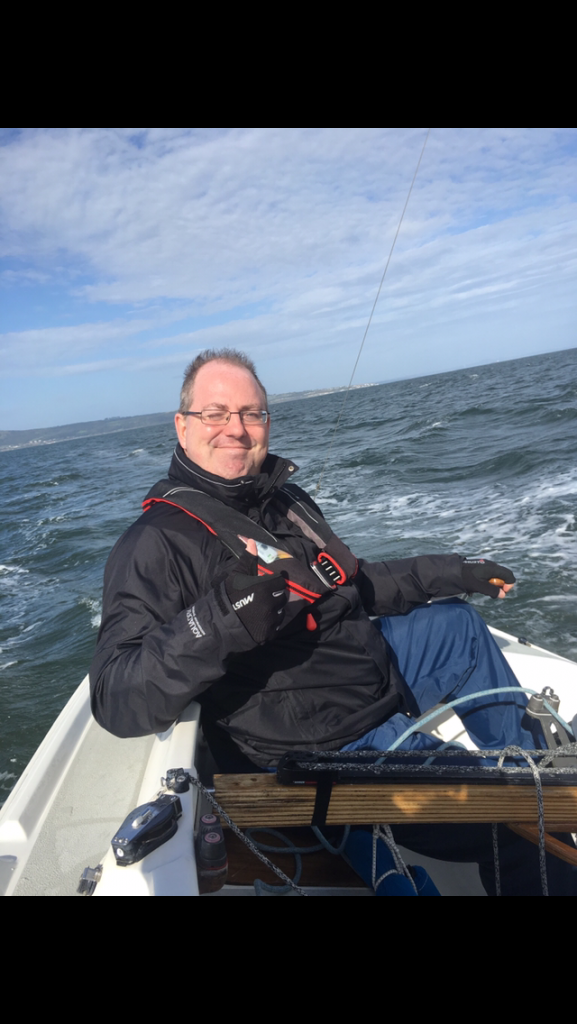 The second race had barely got underway when the aforementioned problem with the jib started making itself known. As Louise reported, when we couldn't secure the jib we then began taking it down. I went forward to haul it down and needed to try and keep it on the foredeck to prevent it from getting pulled under the boat. The foredeck was completely wet and fairly slippery and as the chop increased it seemed prudent to go prone briefly so I could hold one hand on the forestay whilst wrapping my free arm around the sail to keep it bundled and at the same time keep my weight low so the bumps wouldn't unsettle me. From this position I could then look back over my shoulder and was planning to ask if Louise could get hold of a bit of spare line from somewhere that I could use to tie the sail with.
However, Louise saw the situation and called me back, wisely figuring she'd be better going forward in these challenging conditions. So that's the lead-up to how I'm in the cockpit on the tiller while Louise is on the foredeck attempting to improvise some form of sail recovery.
It's probably a good time to mention a simple rule Louise gave me to follow on our first outing together a week or so earlier. "One hand for the boat, one hand for yourself." It's a well repeated piece of advice and I'm sure we can all see the sense in it.
I was standing at the back of the cockpit, hand on tiller and could see that we'd probably need to bring the sail back toward the hatch and stow it below. But the sea was choppy and I could see it was even challenging for Louise to keep a firm footing, as the bumps caused her feet to slip temporarily before she caught her balance again.
Royal Forth had come alongside and Dermot was calling out advice to Louise. I realised that if I were to be any help in retrieving the sail I'd need to be standing in front of the track which would mean using the tiller extension.
And it was here that the real damage was done.
First I started to do something that I hadn't been told to do: move forward of the track. For those that aren't familiar with an H-Boat, the cockpit area is divided in two, front and back, by the main sail track. Moving forward therefore requires climbing over the track which I started to do. My second mistake, I didn't keep one hand firmly on one of the selection of hand-grips carved into the wooden track board. I so wish I had not broken that rule.
As I was in the process of raising one leg to hurdle the track, we got a bump and I was aware that my standing leg wasn't connected to the deck. My lofted leg kneed into the track board and I was out of control, moving back and sideways. It had only taken a second but I was falling. I was going in the water.
---
Four days earlier… Louise and I had spent a couple of hours on the boat after work figuring things out and developing plans for what we'd do on the weekend, be it racing or simple practice. We had fellow club-member Ian with us, a far more experienced and seasoned sailor and racer than either of us and a current H-Boat owner to boot. We learned a lot about the boat and though there was barely a wisp of breeze to enable us to actually go out and sail, we felt we'd gained some useful knowledge that would stand us in good stead.
At the end of the session, over the requisite post-sailing refreshments, Louise demonstrated the safety kit she'd bought for the boat, taking me through all the procedures on how to operate each item. Somewhat ironically I quizzed Louise on a number of topics, taking advantage of the training she'd received a few weeks earlier aboard a vessel upon which some of the crew were preparing to take the Yacht-master qualification. (Maybe you've already seen the blog?)
One of the topics forefront in this quizzing was the Man Overboard procedure. Knowing Louise had practiced this during the training, I felt it was really important that I had as good an understanding as possible. It was clear that if I went overboard Louise had a firm plan on what she should do. I knew it was my responsibility to learn the same procedures in case the situation were reversed.
We went over it from various directions. As much as you can plan for something we finished the discussion with a good view of what should be done and made an agreement to go out and practice Man Overboard procedures with a buoy or something similarly harmless at some point in the near future.
---
So as I was falling from the boat… I already knew Louise was going to be reaching for the radio, considering pressing the scary red button, deciding if she could throw me the recovery strop we'd examined on Tuesday evening, bringing the boat about if possible to recover me.
I even recall tensing slightly before I hit the water, wondering if I should have taken a deep breath. Before I'd bought my life-jacket I'd discussed the topic with a couple of club-members and they had impressed upon me the value of an auto-firing system. "The water can be so cold, it can cause the body to inhale sharply due to the shock of the cold, filling the lungs with water." I was waiting for the cold and the shock…
And then I entered the water. It's testament to the way the body works when an emergency occurs, all these thoughts had run through my mind before the life-jacket had started inflating. When the salt cartridge auto-fired the gas cylinder, I remember thinking "oh, so that's what that sounds like". And feeling relief that it was working.
It takes a second to get your bearings and in choppy waters you quickly appreciate the difficulty to orient yourself with your eyes just inches above the surface of the water. But I was intact, the water felt – 'warmer than expected' sets the wrong idea – not as brutally cold as I was expecting. It was bearable. For a few minutes at least.
I quickly saw Royal Forth on station and recognised that they saw me, so they knew I was in the water and were reacting. I guessed they were going to attempt the recovery because that made sense, they're a powered vessel and Hopscotch was slightly injured and single-handed. So I watched them as they circled me and attempted to figure out how to move in the water. I tried a form of back-stroke and a form of breast-stroke. I've never been in the water with a life-jacket on before so I had to know what I could do. I didn't know or hear that Louise was telling me not to bother. I'm blaming the fact my ears were full of water but it's a good point to note; hearing anything clearly while in the water with an inflated air-bladder pressing against the head is a challenge.
My next thoughts went to Hopscotch. I couldn't see the boat clearly but I trusted Louise with the MOB procedure and presumed she'd have stood down from attempting to recover me after seeing Royal Forth jump into action. But how would she recover the boat? And how would she get safely back to our mooring?
I couldn't ponder on this long enough to allow common sense to remind me that the tide was out and that we had a pontoon. My attention was focused on Royal Forth and what I needed to do to get out. But I was really, really annoyed with myself. I was beyond the point where uttering profanities provides relief. I'd let myself down and I'd let my team down. The exact opposite of what I'd hoped for at the start of the day.
It was clear I wasn't able to move with any real pace between the movement of the water and the restrictions of the life-jacket but as I watched them coming about to find a better approach angle, I juggled attempting to paddle a bit in what I estimated would be a vaguely helpful direction and concentrating on keeping my airway clear. The life-jacket keeps your head up and raises your chin if you relax into its buoyancy but you suffer the waves splashing you – my life-jacket does not have a hood, though it's an optional extra I'll probably pick-up following this experience – and you can easily ingest some water if you're not paying attention.
As I'm tracking Royal Forth I realise I'm still holding the tiller-extender. I thought about letting it go but it wasn't creating a problem for me at this point and the slightly daft thought that this wasn't my tiller-extender to blithely throw away ran through my mind. Because that was a clearly important principle to seize onto in that moment…
Eventually, after what hasn't felt like more than a minute or two, Royal Forth is moving into a position that's looking quite good to me. Dermot's watching me, holding a life-ring and at the right moment throws it fully out towards me. It doesn't quite reach but I realise I can paddle the gap so I put my pseudo breast-stroke into practice and edge towards it until it's in my hand. At this point, I know I'm good.
Dermot pulls me to the boat and then I'm looking up at about 3-4 feet of the side of Royal Forth and the welcome faces of Joe and Dermot. I reach up and they grab an arm each but a tentative initial pull makes it clear that this soggy dimwit isn't going to be simply brute-forced into the boat against the better judgement of gravity.
Thinking quickly, Dermot takes the life-ring and ties it off on the side of the boat at just the right height that I can get my foot into it and push myself up the side of the boat. They've both got a firm hold on me and it takes a couple of quite undignified-but-nobody's-worried-about-that mini-hoists where I pull myself up a bit further and they help pull and then anchor me ready for the next.
Next thing I know I'm over the side, into the relative safety and comfort of Royal Forth and Dermot is confirming with me that I'm okay, offering me something to wash the salt out of my mouth and settling me down. And then we're off to rendezvous with Hopscotch and make sure Louise is okay. I'm relieved to see the boat and Louise are both safe, though not out of trouble entirely.
It's clear that the jib is under the boat and affecting its ability to sail, pulling it entirely the wrong way and single-handed it's a nasty challenge for anyone. So Joe gets us alongside and Dermot steps across. Having only started sailing earlier this year, watching Dermot claim the foredeck and start dragging the sail up out of the water, completely stable on his feet in still very choppy conditions was suitably impressive. I hope I'll gain such sea-legs after I've had a few more years of sailing under my belt.
And that's largely where the drama ends. Our last action on Royal Forth was to put the call out that the races were cancelled for the day and to recover the race mark. I feel I should offer my apologies at this point to the rest of the racing fleet whose day was curtailed because of this event. I am fairly humbled by my own stupidity and feel suitably guilty that it meant we didn't get to finish the race day in the intended manner.
By the time we got back to the pontoon, it was really good to see that Hopscotch had made it back safely, along with the rest of the racing fleet, and that a post-event analysis of what went wrong with the jib was occurring.
It took an hour or two for the tide to rise high enough for the boats to retreat back to their moorings from the pontoon and in that time, a few recountings of what had occurred took place. I'm sure that I'll be gently and humorously reminded of this for quite some time to come. But what will stick with me for even longer is how great everybody was on the day.
Joe and Dermot on Royal Forth were everything you'd want in a recovery team. I could hear them once I was close enough to the boat as they talked to each other, calmly choosing each action and then once they had me alongside, talking me all the way up and into the boat.
My fellow club-members were as they have been since I joined the club this year, full of kind words and advice and reassurance. I can't thank them enough for their support.
As you can probably imagine, the brain runs riot after something like this. It's an endless re-run of the events that took place, with each replay eliciting ever more annoyance at the mistakes I'd made and how simply I could have avoided this happening at all. Consequently, the ability to find satisfaction in the use of profanity directed at oneself returns quite quickly, should anyone be wondering.
So, here's the summary of the lessons I learned today.
Wear an auto-firing life-jacket at all times.
The moment I heard the inflation occurring, I was immediately calmer. I knew there was a plan, I wasn't out of the water but I was going to float.
Prepare for everything, plan well.
I've been told there's an element of OCD (Obsessive Compulsive Disorder) to many good sailors due to the way they understand the severity of what can happen when things go wrong and they therefore seek to mitigate the risks with ample preparation and planning. Knowing we had a plan for the MOB procedure was a comfort and gave me a process to work through if we'd been by ourselves.
Remember the rules.
In this case I simply forgot for a moment as I attempted to cross the track to keep one hand for myself. Just one hand on the track and none of this would have happened. I'm certain we'd have managed a successful jib recovery and made it back to harbour had I not jumped ship. I was attempting to solve the problem too quickly. Slow down, think more carefully. Be safe.
Do what you're told.
Here I was instructed to man the tiller. I wasn't asked to come forward of the track. In my wish to be helpful I became the opposite.
I spent a lot of the rest of the day this happened being inwardly annoyed with myself as probably should be the case. Everybody asked me if I was alright and as Louise noted, I am more irritated that I was not a dependable crew-member on the day on whom my skipper could rely.
And I agree with Louise that things could have been so much worse. If Royal Forth was not already alongside, the recovery would have been a lot more challenging. If Louise had been incautious and also fallen in, it could have been a disaster. So we both gained truly valuable experience that neither of us sought to gain on the day but nevertheless will benefit from in the days and years to come.
I was reminded the following morning though that the "what–if" game has two sides. I was walking past a building belonging to a company I'd hoped would become a client earlier in the year. At that time it wasn't to be and that turned out to be a good thing.
If I'd got that client, I would not have been working out of our local office where my friend and colleague also works. I wouldn't have told them that I've always wanted to try my hand at sailing and I wouldn't have been invited to the club's open day as a result. My friend's husband is a member.
I joined the club because of the open day. I got to go sailing because of the welcoming generosity of the club's members and I got to join in with cruising and racing and become a crew-member-in-training as a result. It may have begun inauspiciously but I can say with confidence that I'm very much in love with sailing and if I can just keep myself on the boat, I can't wait to enjoy many, many, many more years of this wonderful sport.
---
Postscript
In the interval between the first and second races, team Hopscotch used the momentary lull to install a GoPro to the head of its novice crew-member. If anyone doubts the heroic aspects of how this incident occurred and has access to dive gear and especially sensitive detection equipment, there's a GoPro out there somewhere in the depths, succumbing to the brine but bearing evidence on its memory card of the full sequence of events that occurred right up until the moment matters went water-side and it got dislodged from its precarious perch.
If anyone comes across this item in their travels, we'd love a good laugh…