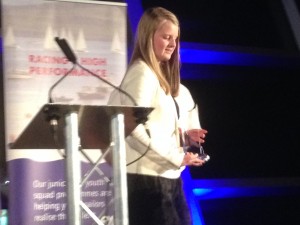 Robyn Dougall has again been flying the flag for the club.
On Saturday 1 February, Royal Forth Yacht Club Cadet, Robyn Dougall won the 2013 RYA Young Volunteer of the Year award. The award was presented at the prestigious RYA Annual Awards Dinner in Glasgow. Over 150 people attended this glittering event on Saturday 1st February.
Robyn was awarded a beautiful glass trophy. The Awards Dinner was sponsored by Honda, Clyde Challenger and Virgin Atlantic.
Robyn also reached the shortlist in the final three for the nomination to receive The RYA Scotland Elizabeth Mackay award 2013. This award was for women that had made a particularly impressive input to the sport.
Below are pictures from the evening and a picture of Robyn's award. (Award ceremony pictures courtesy Judith Drummond.)